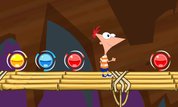 Play Now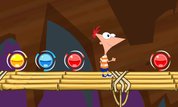 Unfortunately Underground Adventure is not available on your device. Please try one of the related games instead or visit our HTML5 category.
This Flash game is loaded using an emulator. If you notice any glitches(such as the game getting stuck or music/sound missing), click to play the original version with NuMuKi Browser for the best experience.
About Underground Adventure Game
Phineas and Ferb definitely know what they are going to do today. They are in the mood for some new adventures, and you can join them as well in the Underground Adventure game! The two friends want to collect jewels hidden in great caves under the ground. Candace is joining them to film the process. Are you in? Go down in the Underground and face the breathtaking world full of many fantastic and dangerous things! The great adventure is awaiting you! Let's see how to deal with your task.
How to play the game
There are dozens of jewels spread out in the underground. You will find a certain number of them in each stage. Collect them all to complete the level! Move using the arrow keys and jump using the spacebar. To obtain all the jewels, you need to figure out how to reach them first! It's not that simple since there are many hazards and obstructions on your way. You will need to get over tricking platforms that move and then, suddenly disappear right under your feet! There are firing lava balls and other dangerous things, you have to pass.
Last but not least, there are some bonuses that might help you on your journey. You only have a few lives, which you can quickly lose, if, for instance, fall into a lake or let some lava ball hit you. Get over lakes and canyons, jump from one platform to another one before they disappear, avoid hazards and reach all the jewels! Try not to fail; otherwise, you will need to start the game over.
Have fun!
If you enjoy playing Underground Adventure, you might be excited to find out that there are 48 more Phineas and Ferb games you can try! The most popular is Hoverboard World Tour, and the most recently added is Titans on the Track