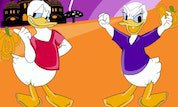 Play Now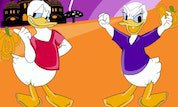 Unfortunately Color Donald Duck is not available on your device. Please try one of the related games instead or visit our HTML5 category.
This Flash game is loaded using an emulator. If you notice any glitches(such as the game getting stuck or music/sound missing), click to play the original version with NuMuKi Browser for the best experience.
About Color Donald Duck Game
Play Color Donald and Daisy Duck game while they are preparing for a Halloween party! Who doesn't like parties? Donald and Daisy both want to show off since they look perfect together. But their desire to be in the spotlight is also a part of their personalities.
No duck would like to stay apart, if they are so eccentric and so much extrovert, as Donald and Daisy are. Both of them can't wait to have fun! Join Donald and Daisy Duck for this Halloween Coloring and Dress Up game. Dress Up both of them and change the colors and the clothes as you wish!
Here you can realize the craziest fashion experiments trying on many Halloween costumes and playing with colors! Mix styles and colors together.
How to play the game
First, click the Dress button at the bottom of the screen and choose some Halloween costumes for Donald and Daisy. Once you are done with the outfits, the Ducks are almost ready for the party. It's time for the next and the final step.
Give them some new colors! Color the costumes to give Donald and Daisy really crazy looks. Then color everything else! Change the background and anything you want to on the picture. Make the sky pink and the grass blue, if you wish so. You are free to give them any color, even if it's neon green or purple. Don't hesitate to provide them with a funny or a really unconventional look!
It's Halloween, it's time to let your imagination run wild. After you have finished, there is an option to print your work!
If you enjoy playing Color Donald Duck, you might be excited to find out that there are 12 more Donald Duck games you can try! The most popular is Pillow Fight, and the most recently added is Silly Solve and Search