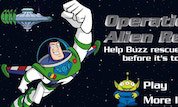 Play Now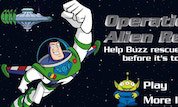 Unfortunately Operation Alien Rescue is not available on your device. Please try one of the related games instead or visit our HTML5 category.
This Flash game is loaded using an emulator. If you notice any glitches(such as the game getting stuck or music/sound missing), click to play the original version with NuMuKi Browser for the best experience.
About Operation Alien Rescue Game
In Buzz Lightyear of Star Command: Operation Alien Rescue game, Zurg has captured all the Little Green Men and locked them away in his many hideouts across the galaxy. With this action, Zurg was thinking he might lure Buzz into a trap! Buzz is the only one who can stand against evil Emperor Zurg and rescue the Little Green Men. Help him to deal with this dangerous mission!
Buzz is a toy Space Ranger known for his courage and bravery. He's not just an enthusiast wearing a space suit, Buzz is a highly skilled ranger in hand-to-hand combat and martial arts. Despite his impulsive nature, he never let his sharp mind sleep, which makes his an example to many.
Win one more time against Emperor Zurg
Of course, most of the heroes also have enemies! And Buzz is no exception. His constant enemy is Emperor Zurg: the ultimate force of evil in the whole galaxy, a tyrant terrifying all the galaxy habitats. Zurg was craving to wipe out Buzz for way too long. Buzz would always strike back Zurg's evil attempts to reach and destroy him and his friends, and now he's gonna throw himself into battle again!
There are five Zurg's hideouts where the Little Green Men are kept in. Guide Buzz using the arrow keys and click the space-bar to jump. Buzz will jump higher if you hold down the spacebar longer! Rescue all of the Little Green Men and find an exit portal to Zurg's next hideout!
Watch out for traps that Zurg set for you and beware of his henchmen. You only have five lives. You will have to start the mission over when all of them are lost. Try to complete the task before the time runs out!
If you enjoy playing Operation Alien Rescue, you might be excited to find out that there are 20 more Toy Story games you can try! The most popular is Woody to the Rescue, and the most recently added is Woody's Wild Adventure