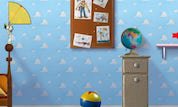 Play Now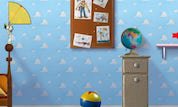 Unfortunately Buzz Lightyear's Flight for Distance is not available on your device. Please try one of the related games instead or visit our HTML5 category.
This Flash game is loaded using an emulator. If you notice any glitches(such as the game getting stuck or music/sound missing), click to play the original version with NuMuKi Browser for the best experience.
About Buzz Lightyear's Flight for Distance Game
Are you up for another unbelievable mission with Buzz Lightyear? He is more than ready to win this incredible game with your help! Play Buzz Lightyear's Flight for Distance game if you want to have a great time with Buzz and also develop your logic and thinking skills!
Buzz is one of the most amusing characters from Toy Story, one of the children's favorite cartoons, but the problem is that nobody believes that he can fly! Let's prove them wrong and show them how majestic Buzz's flight can be. Help Buzz get to the other side of the room! Accomplish that by achieving the perfect aim and making him bounce off on the rubber ball which is on the floor. As a result, he will fly high up and show everyone his superb skills!
How to play the game
Pay attention to the aiming module and control it by using your mouse. When Buzz feels ready for the stunt, his aiming mechanism will reveal itself to you. Move the module's red target to select the perfect angle as well as the intensity of the jump. Not only it is required from you to stay focused, but you should also possess incredible precision if you want to be the winner of this game and finish all five levels successfully!
When you feel ready, and you think everything is set for Buzz's leap of a lifetime, just release your left mouse button and observe the magic which will be happening right before your eyes. If everything goes according to plan and your aim is perfect, Buzz will reach the far end of the room in no time, and everybody will be convinced that he can indeed fly. If you want to have the time of your life with this courageous astronaut, it is the perfect time for you to join him and help him win this game!
If you enjoy playing Buzz Lightyear's Flight for Distance, you might be excited to find out that there are 20 more Toy Story games you can try! The most popular is Woody to the Rescue, and the most recently added is Woody's Wild Adventure