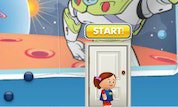 Play Now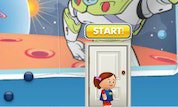 Unfortunately Marbleos Missions is not available on your device. Please try one of the related games instead or visit our HTML5 category.
This Flash game is loaded using an emulator. If you notice any glitches(such as the game getting stuck or music/sound missing), click to play the original version with NuMuKi Browser for the best experience.
About Marbleos Missions Game
Are you afraid of aliens? If not, then you are free to join us for an alien-rescue mission in Toy Story 3: Marbleous Missions game. In this game, you can choose between two characters, Space Ranger Boy or a Girl. Your main goals are to collect as many marbles you can and to save the aliens.
To be able to save the trapped aliens, first, you need to find a switch and pass through it which will unlock them. Rescuing all the aliens will bring you extra points. Different marble colors bring a different number of points, so be sure to collect them all or at least as many as you possibly can.
Useful tips
Also, you will stumble upon the marble with the question mark within it. It's a very rare marble which is essential for you to pick up so it can be added to your trophy cabinet. You have 8 minutes to finish the entire level, so be quick and careful because you only have 3 lives. Finding the big, golden key will ultimately complete the mission.
Use the LEFT and RIGHT arrow keys on your keyboard to run the character in one of those two directions. Using the UP arrow key will make your character jump, and while in a jump mode, press LEFT or RIGHT arrow keys to move your character in the direction you want while in the air. While in the air, you can also press and hold UP arrow key to give your character set of wings, so it'll glide through the air. Using the space-bar will make your character fire. Double tapping LEFT, or RIGHT keys will make your character perform a charge in the direction you set it to.
If you enjoy playing Marbleos Missions, you might be excited to find out that there are 20 more Toy Story games you can try! The most popular is Woody to the Rescue, and the most recently added is Woody's Wild Adventure