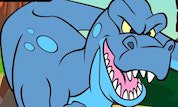 Play Now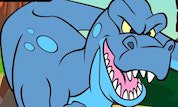 Unfortunately Donald Dino Dash is not available on your device. Please try one of the related games instead or visit our HTML5 category.
This Flash game is loaded using an emulator. If you notice any glitches(such as the game getting stuck or music/sound missing), click to play the original version with NuMuKi Browser for the best experience.
About Donald Dino Dash Game
Donald Duck Lost in Time: Dino Dash game leads your character to the prehistoric time when dinosaurs were roaming the planet Earth. Donald Duck was zapped to ancient times, and his time-watch broke to pieces and was scattered all over the jungle. So now, he can't return back to his time.
Our main goal is to collect all the parts so that Donald Duck can fix his time-watch and be able to return to his original time.
How to play the game
While in the game, use directional arrow keys on your keyboard to move Donald left or right. Use the UP key to make him jump, and the DOWN key to make him duck.
Gyro Gearloose is watching Donald Duck from his lab and will help him in this mission as much as he can. Through the game, you can collect many things for bonus points, such as dinosaur eggs. You can also collect power-ups, such as the Hyper-Speed power-up, to jump higher for 10 seconds, or the Mega Power-Up, to make Donald invulnerable for 10 seconds. To obtain one additional life, you need to collect the +1 power-up.
Useful Tips
Avoiding enemy dinosaurs, lava rocks, and cavemen is advisable; otherwise, you'll have to begin the game from the very beginning of the level. To defeat dinosaurs or cavemen, you just need to jump on top of them.
Try to collect as many bonus points and all other perks as possible since it will make the game easier and more fun to play.
In this game, you need to concentrate on things which are essential and more urgent to obtain. You will discover all of those things after several tryouts.
Have fun!
If you enjoy playing Donald Dino Dash, you might be excited to find out that there are 12 more Donald Duck games you can try! The most popular is Pillow Fight, and the most recently added is Silly Solve and Search