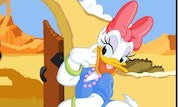 Play Now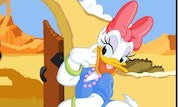 Unfortunately Dress Up your Daisy Duck is not available on your device. Please try one of the related games instead or visit our HTML5 category.
This Flash game is loaded using an emulator. If you notice any glitches(such as the game getting stuck or music/sound missing), click to play the original version with NuMuKi Browser for the best experience.
About Dress Up your Daisy Duck Game
Daisy Duck is trying on new outfits! Help her out with choosing the best ones while playing Dress Up your Daisy Duck game!
As everybody knows, the sweet little duck Daisy is the girlfriend of Donald Duck. She has several passions in life. The first one and the main one, of course, is Donald. Daisy loves Donald a lot, which sometimes makes her care way too much about him.
Without any doubts, Donald is her true soul-mate, and nothing in the world would ever separate them from each other. And this is how Daisy also thinks. But what to do, if your boyfriend can be so careless and neglect from time to time?
Find the best outfit for Daisy Duck!
Daisy is working hard on their relationship. She's giving all of her to make Donald a better duck! As you can see, Daisy is so lovely and caring, but her personality is actually not that innocuous! Daisy can be really bossy and sassy and even arrogant with Donald and her friends!
Sometimes it seems like she was born to be a little commander. That's another thing she loves a lot: just like Donald, she craves for attention. Sometimes she feels like the world is a vast stage made for her! Daisy is naturally fun and talkative, so it's no surprise that she attracts everyone's attention.
Last but not least: Daisy adores fashion! Talking about her personality, that's the final piece which makes it complete. Like many other female ducks, Daisy would never miss a chance to go shopping! There's no doubt, fashion fits her eccentric nature.
Enjoy the game!
If you enjoy playing Dress Up your Daisy Duck, you might be excited to find out that there are 12 more Donald Duck games you can try! The most popular is Pillow Fight, and the most recently added is Silly Solve and Search