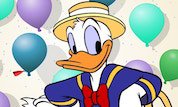 Play Now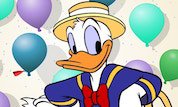 Unfortunately Donald Darts is not available on your device. Please try one of the related games instead or visit our HTML5 category.
This Flash game is loaded using an emulator. If you notice any glitches(such as the game getting stuck or music/sound missing), click to play the original version with NuMuKi Browser for the best experience.
About Donald Darts Game
Ready to join Donald Duck in a fantastic game of darts? Then it is the perfect time for you to start playing Donald Darts game!
Donald Duck is the lovable and friendly Disney character, but when something doesn't go his way, he has the habit of throwing tantrums and become really angry. Would you like to help him have an incredible time and win this great game? We bet he would love to experience the fun and joy of winning it!
How to play the game
To win this game, you have to keep an eye on the red balloons which are passing by and try to hit them with your dart. These balloons will bring you points and help you win the game.
Be careful, you only have five darts, so make sure you use them wisely and think carefully about each one of your moves. To do this successfully, you need to have perfect aiming skills and think fast. Follow the red balloons carefully and try to figure out what their trail might be on your screen.
Some balloons will fly across your screen incredibly fast, and it might be a bit difficult to hit them, but this is what will make you the best player, and we are sure that you can succeed! Your thinking skills will improve, and your concentration will become better by playing this game with Donald Duck.
Playing darts is quite a popular activity around the world, and Donald is one of its biggest fans! Would you like to help him experience the best game of darts he has ever taken part in? We are absolutely sure that you have got what it takes to hit those red balloons!
Join Donald and have an incredible time playing this great game!
If you enjoy playing Donald Darts, you might be excited to find out that there are 12 more Donald Duck games you can try! The most popular is Pillow Fight, and the most recently added is Silly Solve and Search