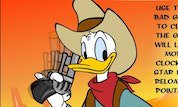 Play Now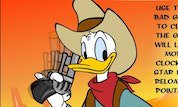 Unfortunately Donald Duck Target Trail is not available on your device. Please try one of the related games instead or visit our HTML5 category.
This Flash game is loaded using an emulator. If you notice any glitches(such as the game getting stuck or music/sound missing), click to play the original version with NuMuKi Browser for the best experience.
About Donald Duck Target Trail Game
Hope you are in the mood for a cowboy mission because Donald Duck is inviting you to lend him a helping hand with his new exciting mission! Play Donald Duck Lost in Time: Target Trail game and have the time of your life with the lovable Disney character.
You need a sharp eye and impeccable focus to win this game because we want to keep Donald safe while he's wearing his cowboy hat! Your goal is to obtain at least a thousand points in each of the three levels by shooting the bad guys with your cork-shooter. At the same time, make sure you don't hit any of the good guys.
How to play the game
Pay attention to the red target because it is of utmost importance to achieve the perfect aim so you can hit only the bad guys. If you by any chance miss and hit one of the good guys, you will lose time, and it will be harder for you to achieve your goal.
You have a limited amount of cork-bullets, so make sure you click on the star in the bottom left corner of your screen to reload your gun and continue your game. Make sure you pay attention to the time because you have a limited amount of it for each level.
Useful Tips
Can you earn a thousand points in seventy seconds? We bet you can! If you want to make the game last longer, make sure you hit the bouncing clock with your cork-shooter, and you will get additional seconds. Also, make sure you don't miss the bonus items because they can get you extra points!
You have to do all of this successfully if you want to help Donald find the missing pieces of his time watch and get back to our world! Gyro Gearloose, the fantastic inventor, is there to offer you support on your journey.
We are sure that you will get Donald Duck back to our dimension in no time! Enjoy this cowboy experience and have a wonderful time with Donald and Gyro!
If you enjoy playing Donald Duck Target Trail, you might be excited to find out that there are 12 more Donald Duck games you can try! The most popular is Pillow Fight, and the most recently added is Silly Solve and Search