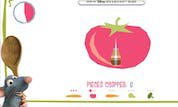 Play Now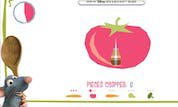 Unfortunately Choppity Chop is not available on your device. Please try one of the related games instead or visit our HTML5 category.
This Flash game is loaded using an emulator. If you notice any glitches(such as the game getting stuck or music/sound missing), click to play the original version with NuMuKi Browser for the best experience.
About Choppity Chop Game
If you are eager for a culinary adventure, then you have reached the right place. Ratatouille: Choppity Chop game is just what you're looking for! Playing as kitchen staff(a chef to be), you must fulfill some slicing tasks.
Use the knife (control the blade with your mouse cursor downwards to chop and slice) to perform all the duties and challenges thrown at you.
How to play the game
This game has five different levels with five different food ingredients, starting off with the bread, tomato, carrot, etc. Every level has three different challenges. One is to cut each component into as many pieces as you can. Another activity is to slice the element following the dotted lines across the cutting area and using your precision skill. And the last challenge is to scale the ingredient with your eyes so that you can cut it into two or three or more pieces of the same size. For example, you need to cut bread into two equal sized sections, cut the tomato into three same sized pieces and so on.
This game allows you to be the chef you always dreamt of being and will enable you to test your skills with the knife. Cutting, slicing, and chopping is something all chefs must know how to perform to do their jobs professionally, and besides that, it's fun to practice this way.
Your primary goal is to fulfill all the challenges and tasks so that you won't be fired from your new job. It's an enjoyable game, and you also have the opportunity to learn some new kitchen tricks. Let the real knife handling to the professionals, though.
Enjoy the game!
If you enjoy playing Choppity Chop, you might be excited to find out that there are 11 more Ratatouille games you can try! The most popular is Marionette Madness, and the most recently added is Sort my Tiles