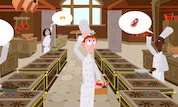 Play Now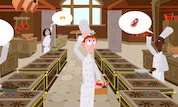 Unfortunately Kitchen Chaos is not available on your device. Please try one of the related games instead or visit our HTML5 category.
This Flash game is loaded using an emulator. If you notice any glitches(such as the game getting stuck or music/sound missing), click to play the original version with NuMuKi Browser for the best experience.
About Kitchen Chaos Game
It's another busy night at Gusteau, in Ratatouille: Kitchen Chaos game. The restaurant is full of guests, while everybody in the kitchen is running off their legs!
Linguini and Remi are also in a rush. Linguini has to pass the ingredients to the cooks when they ask for it. But there are too many of them always asking for different things! And the chef Skinner is here, he is watching the workers so that no tiny mistake will pass through unnoticed.
Unluckily, Skinner pays close attention to Linguini. A small misstep might cost him his job! Hope, you will help him to perform his task well.
How to play the game
All you need to do is to follow the cooks' orders and deliver them the required ingredients as fast as you can! Watch the cooks behind stoves and run to them as they ask for a component. Use the arrow keys for moving.
There are three ingredients the cooks need the most, each of them has its number. Press the corresponding number on the keyboard, when you reach the stove, and throw the ingredient to the cook! You will earn points for each successful delivery.
As the process of cooking evolves, you should also try to keep up and react quicker. The cooks will call you more often for more ingredients. You will need to deliver two or even three items at the same time!
Beware of the chef Skinner! He's waiting for you to miss an order so he can have a reason to kick you out of the kitchen. You have just three tries!
Do you think you have what it takes? Well, don't hesitate, click play!
If you enjoy playing Kitchen Chaos, you might be excited to find out that there are 11 more Ratatouille games you can try! The most popular is Marionette Madness, and the most recently added is Sort my Tiles