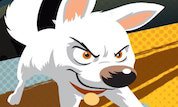 Play Now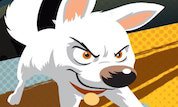 Unfortunately Bolt Rescue Mission is not available on your device. Please try one of the related games instead or visit our HTML5 category.
This Flash game is loaded using an emulator. If you notice any glitches(such as the game getting stuck or music/sound missing), click to play the original version with NuMuKi Browser for the best experience.
About Bolt Rescue Mission Game
Even if there is always something fun to do while you are with Bolt, the super-dog, things can get bad sometimes. This time, Penny is missing again, and Bolt has to find her. How horrible that Penny is all the time the one that has to go through such bad things. In Bolt Rescue Mission game, you have to be braver than ever and help Bolt get Penny back.
Time is also critical, so you have to move fast! Be careful though, because the evil henchman has set sonar bombs to trap Bolt. Help Bolt defuse the bombs before they alert the Drone. Avoid the Drone at all costs! It will try to capture Bolt, and every single wrong move can be fatal.
How to play the game
Move Bolt using the Left and Right arrow keys. Also, make him jump by pressing the Up arrow key. Collect points during the game but be careful at the time. The bombs will alert the Drone pretty quick, so you have to move faster than ever.
It all depends on your super skills to help Bolt get to Penny in time and save her. You know how important a friend is for our beloved dog, and you cannot let him down this time.
What you have to do is to be courageous and believe that you can do this! There is nothing more important or useful in life than a friend, and you can prove it now by doing the right thing.
Do not forget to have fun while you play this game and always do your best!
If you enjoy playing Bolt Rescue Mission, you might be excited to find out that there are 6 more Bolt games you can try! The most popular is Run Bolt Run, and the most recently added is Bolt to the Rescue