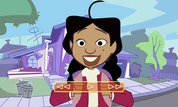 Play Now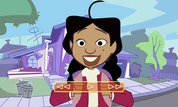 Unfortunately Theme Song is not available on your device. Please try one of the related games instead or visit our HTML5 category.
This Flash game is loaded using an emulator. If you notice any glitches(such as the game getting stuck or music/sound missing), click to play the original version with NuMuKi Browser for the best experience.
About Theme Song Game
Welcome to the amazing world of The Proud Family. Many adventures are waiting for you here, and you will be able to meet the entire family in the shortest time possible. The Proud Family: Theme Song is so catchy that it will make you get up on your feet and start dancing and singing along.
Press the play button to watch the introduction video and hear the song. You will meet everyone, starting with Puff, the family dog, and ending with Suga Mama, the good people and the bad people who are playing in the cartoon, and so go on.
Get to meet the characters while playing the Theme Song
Another good thing to mention is the fact that you can pause the song whenever you like and you want. More than this, you can play it forward, or you can reverse it to play a specific part repeatedly. Solange and Destiny's Child perform the song. At the end of the song, you are able either to play it again or to send it to a friend and let him enjoy the Proud Family Theme Song too.
If you already know the song, you can have some great time listening to it, and you will remember about old times. The song will give you a relaxed vibe, and we are sure that you will fall in love with it.
What else are you waiting for? Go play the theme song and see for yourself that everything that we said above is true. We wish you a fantastic time while you spend time with the Proud Family.
If you enjoy playing Theme Song, you might be excited to find out that there are 7 more The Proud Family games you can try! The most popular is Sticky's Mixmaster, and the most recently added is Party Personality Quiz