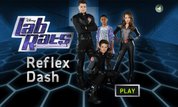 Play Now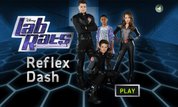 Unfortunately Reflex Dash is not available on your device. Please try one of the related games instead or visit our HTML5 category.
About Reflex Dash Game
Do you think you're fast enough to handle a unique challenge with the Reflex Dash game? Join the brave teenagers on the Lab Rats team in one of the most intensive training courses they have ever been through! Now you have the opportunity to practice side by side with Leo, Chase, Adam, and Bree. What is more, you get to take part in a wide variety of trials that will evaluate your ability to think on your feet!
You might discover that some of these agility tests are entirely unexpected and trickier than they seem! However, you shouldn't get discouraged if you fail on your first try. Don't forget that practice makes perfect!
How many rounds can you last?
The game consists of a rapid succession of thrilling training rounds. There will be no time for hesitation, as you need to understand the rules quickly and complete the challenge as fast as you can. You only have three seconds between rounds, and the pace only gets faster! Therefore, you need to pay close attention to the brief set of instructions at the beginning of each test!
You start out the game with three lives, so you have very little room for error! Can you accomplish the goal before the green timer in the upper left corner of the screen runs out? Each time you fail, you will make you lose one of the precious lives and miss out on the opportunity to score points. Complete the challenges quickly and play as many rounds as you can to earn a high score!
Each member of the team is vital in your mission!
The most exciting feature of this game is the wide variety of trials designed to evaluate different aspects of your speed and coordination. You get to hang out with your favorite characters from the Lab Rats team and see them in action. For instance, you can give Adam a helping hand in laser target practice. Are you in the mood for some dangerous hop-scotch that will show of Bree's agility? Think fast and connect the electrodes on Chase's brain helmet! Finally, you can join Leo in the lab and help him fetch the equipment he needs urgently. These are only a few of the missions that await you in this thrilling test of your reflexes!
This game leaves you no time for hesitation! Put your training suit on, warm up, and get ready for a series of unique challenges that will leave you gasping for air! Are you in the mood for a fun afternoon with friends? Then challenge them and find out who has the best reflexes and can last the most rounds!
If you enjoy playing Reflex Dash, you might be excited to find out that there are 8 more Lab Rats games you can try! The most popular is Heroes of XD, and the most recently added is Mind Over Matter