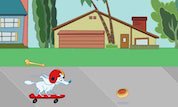 Play Now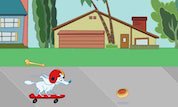 Unfortunately Puff's Skate Jam is not available on your device. Please try one of the related games instead or visit our HTML5 category.
This Flash game is loaded using an emulator. If you notice any glitches(such as the game getting stuck or music/sound missing), click to play the original version with NuMuKi Browser for the best experience.
About Puff's Skate Jam Game
Bebe and Cece from the Prouds are so inventive that they always find something new to do! Today they took Puff and decided to make him a professional skater. Therefore, Puff has been catapulted out of the house and onto a speeding skateboard. In Puff's Skate Jam game, you have to help little Puff find his way back to Suga Mama.
To help Puff, you need to be careful at everything that comes in your way. The obstacles are in many shapes, and they can make Puff lose his balance and fall.
How to play the game
To move from one side to another, use the up and down arrow keys from your keyboard. When you want to jump over an obstacle, press the Space Bar and Puff will do some high jumps. You can find some special treats on your way, such as golden bones.
It is best if you collect all the bones. They will bring you points, and you will keep Puff happy and fed. The obstacles that you need to avoid are the mailboxes, the trash bins, the holes in the ground, and so go on. From time to time, a boy with a bike will come from the opposite direction. You will hear a sound each time he appears, so be careful and avoid him too.
On the other hand, do not hesitate to collect all the Proud Snacks. It will give Puff more energy, and he will be able to get to Suga Mama faster.
Suga Mama will be waiting patiently for him, and she has faith that you will manage to protect him from the obstacles. Do not disappoint her!
If you enjoy playing Puff's Skate Jam, you might be excited to find out that there are 7 more The Proud Family games you can try! The most popular is Sticky's Mixmaster, and the most recently added is Theme Song