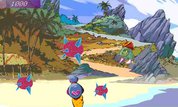 Play Now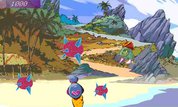 Unfortunately Totally Spies Shooter is not available on your device. Please try one of the related games instead or visit our HTML5 category.
This Flash game is loaded using an emulator. If you notice any glitches(such as the game getting stuck or music/sound missing), click to play the original version with NuMuKi Browser for the best experience.
About Totally Spies Shooter Game
A spy must always be prepared for everything. If the enemies come, all of the spies must have a powerful weapon by their side to shoot them and save the world from evil. Are you able to aim and take down all of the enemies that come on your way? Prove yourself in the Totally Spies Shooter Game and be the best spy the world has ever seen.
The enemies are always nearby. This is why all of the best spies must be ready to attack. And how can they do that, specifically? Well, it is not that hard. Wherever they are, they must possess a good weapon and some impressive shooting skills. But for this, they would need intensive training. And this is where you come along.
Do you want to be an excellent spy in the near future? Do you want to protect the world from evil? Do you want to fulfill your dream and be one of WHOOP's best spies? Then play this game and train the spies how to shot.
Start shooting like a real spy!
The steps for becoming an excellent spy are easy to take. All you need to do is to know your worth and do some intensive training. But first things first, let's review the rules a little bit. What do you have to do whenever you see an evil enemy? It is easy. Just aim towards it and shoot. You will be given a laser gun. Using your mouse to fix your target. Once you are sure that your aim is good, click on the foreign object to shoot. Like this, you can easily make it go away.
The point of this shooting spree is to gain as many points as possible. And how can you do that, specifically? Well, you just have to shoot as many evil monsters as you can. Make sure you do not miss any of them.
There will be two different types of objects that you can shoot. The first type is represented by the balloons, which value 100 points. The other kind of targets would be the flying enemies. Shoot one of them to gain 200 points instantly. You must do this as quickly as you can so that they will not invade us!
The world is once again in your hands. Its salvation depends solely on you. So what do you think? Do you have what it takes to save this world from the evil forces?
If you enjoy playing Totally Spies Shooter, you might be excited to find out that there are 11 more Totally Spies games you can try! The most popular is Totally Spies Mall Brawl, and the most recently added is Robot Island