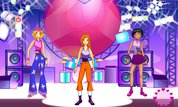 Play Now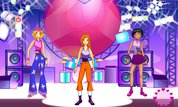 Unfortunately Totally Spies: Dance is not available on your device. Please try one of the related games instead or visit our HTML5 category.
This Flash game is loaded using an emulator. If you notice any glitches(such as the game getting stuck or music/sound missing), click to play the original version with NuMuKi Browser for the best experience.
About Totally Spies: Dance Game
The Spies are gifted with quite a lot of talents. Dancing is undoubtedly one of them. Do you want to be a fantastic spy? Do you want to join the party and dance alongside Sam, Alex, and Clover? Then the Totally Spies Dance Game is the perfect match for you. Learn the steps, master them and help the girls win as many points as they can.
The scene is yours, darling. So own it. Show us your best moves and finish the level with grace. I am sure you are a brilliant dancer. So why do you not show the three totally spies what your secret is? It is your time to shine. So come along and coordinate your idols in the best dance the world has ever seen. We know you have it in you. What are you waiting for?
How to dance like a Totally Spy
As you probably know, every dance has its own rules and patterns. Learn these ones, and you will most certainly win. In this game, there are two series of steps. The ones controlled by the arrow keys and the ones controlled by the "A" and "S" buttons.
The keys that you will need to press will flow towards the center of the screen as your girls keep dancing. Your primary mission as a spy dancer is to push the correct button when the sign reaches the heart. Like this, your girls will keep dancing. Miss one of the keys and one of the girls will fall down.
Each time you skip a step, there will be a spy falling. So make sure you get all of them. Otherwise, you will not be able to complete your choreography. Once all of the girls have fallen, you will need to restart the dance and keep up with the steps again. But do not worry. You are an excellent choreographer. Just be vigilant and pay attention to the sequence. Doing this will ensure your victory.
So are you ready to steal the show and party alongside your favorite characters ever? Then grab your dancing shoes and coordinate the girls throughout the dance, step by step.
If you enjoy playing Totally Spies: Dance, you might be excited to find out that there are 11 more Totally Spies games you can try! The most popular is Totally Spies Mall Brawl, and the most recently added is Robot Island