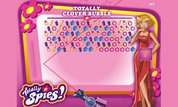 Play Now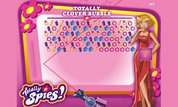 Unfortunately Totally Clover Bubble is not available on your device. Please try one of the related games instead or visit our HTML5 category.
This Flash game is loaded using an emulator. If you notice any glitches(such as the game getting stuck or music/sound missing), click to play the original version with NuMuKi Browser for the best experience.
About Totally Clover Bubble Game
Clover needs your help right now! She has lost all of her jewelry in the Totally Clover Bubble Game, and she needs to get it back using the laser lipstick. But she will not be able to do this without you. So how well do you aim? Show Clover that you have what it takes to save her and play this fantastic game.
Aim, shoot and… Give Clover her jewelry back! She really needs them. You all know how fashionable Clover actually is. She will not be able to live a single day without all of her lovely jewelry. And this is why Clover needs you so much. She knows how good you are with getting back the missing objects. And an extensive experience with laser lipstick is highly required, as well. And who else could have it, if not you?
So are you ready to help Clover? Do you consider yourself able and strong enough to use the lipstick and take back what belongs to Clover? Play this game and show us how well you are doing.
Help Clover to get back her jewelry!
In order to help Clover to collect all of her belongings back, you will need to know the rules of the game. First of all, choose the level that you think is the most suited for you. Taking into consideration your laser lipstick skills, you have two options: beginner or expert.
Now, learn how to perfect your skills and find out the best approach. All you actually need to do is to move the mouse from the left to the right to point it in the right direction. The mouse will coordinate your laser lipstick. Once you find yourself towards the matching jewelry, you will just need to click on it to shoot.
Remember the fact that your laser lipstick will have a specific piece of jewelry in the bubble. So keep in mind that it is the only one you can shoot with, in that round. You will collect the jewels back only if there are three or more of one kind that you hit with your lipstick. Collect all of the pieces of jewelry before the bar reaches your laser lipstick. If it does, you will have to restart again.
Now, everything is in place. Are you ready to begin and get Clover all of her jewelry back? Then press that start button and let's go!
If you enjoy playing Totally Clover Bubble, you might be excited to find out that there are 11 more Totally Spies games you can try! The most popular is Totally Spies Mall Brawl, and the most recently added is Robot Island