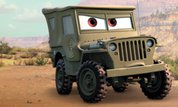 Play Now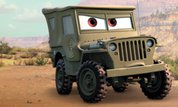 Unfortunately Lightning's Off-Road Training is not available on your device. Please try one of the related games instead or visit our HTML5 category.
About Lightning's Off-Road Training Game
Lightning McQueen is the best racecar that the world has ever heard. When it comes to racing roads, no one beats him. Still, he has to practice the off-road ways a little bit more if he truly wants to be the best. Luckily he knows many cars who are also great friends of him and they can help with McQueen's little problem. Sarge is one of them. In the Lightning's Off-Road Training game, he is going to help Lightning McQueen become better at off-road courses.
For that to happen, he designed an obstacle course for the racecar. This obstacle course is meant to test McQueen's agility and his general skills for racing. There are a few challenges that Sarge set for Lightning McQueen, and to pass these tests he has to do well in the course.
How to play the game
You will need to control the car on the road using the arrow keys on your keyboard. Be careful at the time because you only have one minute to complete the course three times. On your way, you will find oilcans. Collect them all so you can improve your badge rating. After you completed one level, another one will unlock. The levels become harder and harder, so be fast and keep practicing.
It is important not to give up because it will lead to nothing good and in this way, Lightning McQueen will never learn how to race off-road.
Get ready and do what it takes to become the best! Good luck!
If you enjoy playing Lightning's Off-Road Training, you might be excited to find out that there are 28 more Disney Cars games you can try! The most popular is Lightning McQueen's Desert Dash, and the most recently added is Disney Cars Jigsaw