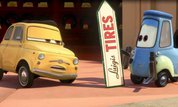 Play Now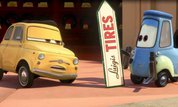 Unfortunately Guido Signtastico is not available on your device. Please try one of the related games instead or visit our HTML5 category.
About Guido Signtastico Game
In Radiator Springs there are not so many tourists coming, this being an explanation of why the sales are low sometimes. The cars from there need to come up with great ideas to attract other vehicles and sell their best stuff. Luigi is one of these cars, and he has a fabulous idea for his Casa Della tires shop. He asked Guido, his loyal friend to hold a sign and perform maneuvers with it in the air with the goal of getting more customers. In Guido Signtastico game, you need to help him do some impressive tricks with the sign.
Help Guido to perform all the tricks
Even if it sounds hard at the beginning, do not worry. All you need to do is use your mouse and drag along the arrow's path that appears on your screen. In this way, you will execute the moves you need. Be careful not to make any mistakes because if you do it, the tire meter will show you a red X. When you have five red X-s, you will lose the game.
From time to time, your good friend Lightning McQueen will come to you and bring power-ups. Click on him to collect the power-ups and activate them. If you do well in the game, you can create combos of moves, which will increase every time you do a series of correct moves.
Helping Luigi with his shop means so much not only for him but also for the entire Radiator Springs. Do your best and show the world that every car deserves tires from Luigi's shop!
If you enjoy playing Guido Signtastico, you might be excited to find out that there are 28 more Disney Cars games you can try! The most popular is Lightning McQueen's Desert Dash, and the most recently added is Disney Cars Jigsaw