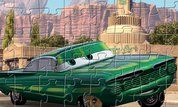 Play Now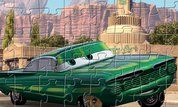 Unfortunately Disney Cars Jigsaw is not available on your device. Please try one of the related games instead or visit our HTML5 category.
This Flash game is loaded using an emulator. If you notice any glitches(such as the game getting stuck or music/sound missing), click to play the original version with NuMuKi Browser for the best experience.
About Disney Cars Jigsaw Game
Having fun with your friends can be a great relaxing way sometimes. When you have fun and spend time with your favorite characters from Cars, then you can say that you have a beautiful day. Today you can take part in a fascinating and educational activity together with your favorite cars. The Cars Jigsaw puzzle game is here to bring you to the world of cars, and at the same time, it will help you discover the beauty of it.
How to play the game
All you need to do is pick a picture that you like the most from the three that you got. After that, choose the level of difficulty you want to play and start putting piece next to piece to form the puzzle with the car you have chosen before.
When you finish doing it, the time will appear showing you how fast you were. You can try to do the puzzle in a hard way if you choose to do it using Normal mode for the first time.
Do all the puzzles and spend as much time as you can with Lightning McQueen and his loyal friends from the Radiator Springs. You will see that the time will fly fast and you will find yourself doing puzzles and having fun, which is all that matters.
Tell your friends about it and start playing together. See which one of you is creating the puzzles faster and who can do it better in the hard mode. Do not forget to have fun! Lightning McQueen has for sure all the time and so should you do!
If you enjoy playing Disney Cars Jigsaw, you might be excited to find out that there are 28 more Disney Cars games you can try! The most popular is Lightning McQueen's Desert Dash, and the most recently added is Disney Cars Hidden Letters