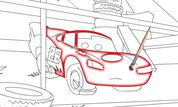 Play Now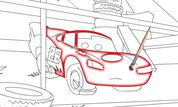 Unfortunately Lightning McQueen Coloring is not available on your device. Please try one of the related games instead or visit our HTML5 category.
This Flash game is loaded using an emulator. If you notice any glitches(such as the game getting stuck or music/sound missing), click to play the original version with NuMuKi Browser for the best experience.
About Lightning McQueen Coloring Game
Imagine that you are the only one who can bring life into Lightning McQueen, that you are the only person able to create him and to give him unique skills. Now, this thing can be possible but only if you play the Lightning McQueen Coloring game.
The game presents a well-known scene from the Disney movie when McQueen in trapped in the Radiator Springs the first time when he arrives there. The picture needs a little bit of color so here comes your part.
Exercise your coloring skills
Using a brush, choose the colors you want from the panel and start coloring Lightning McQueen the way you like. If you have ever imagined the fastest car on earth in other colors than the original one, you can try it now and see how it looks like. Who knows what an artist hides inside you and you have to set him free?
When you finish the painting, use the Next button to see your result. The best part is that even if you finished, you can play again for as many times you want and use different colors. No one will stop you from using your imagination and creativity to the fullest. Doing this thing, not only that you will practice your coloring skills, but you will also have a lot of fun with Lightning McQueen.
Do not wait any longer and start giving life to the most beloved car. You will see that with just a little brush, you can create beautiful things and you will be proud of your work!
If you enjoy playing Lightning McQueen Coloring, you might be excited to find out that there are 28 more Disney Cars games you can try! The most popular is Lightning McQueen's Desert Dash, and the most recently added is Disney Cars Jigsaw