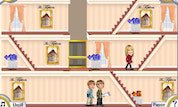 Play Now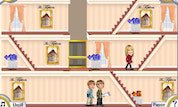 Unfortunately Zack & Cody's Tipton Trouble is not available on your device. Please try one of the related games instead or visit our HTML5 category.
This Flash game is loaded using an emulator. If you notice any glitches(such as the game getting stuck or music/sound missing), click to play the original version with NuMuKi Browser for the best experience.
About Zack & Cody's Tipton Trouble Game
Welcome to another adventure orchestrated by the twins in the Zack and Cody's Tipton Trouble game. When these two are in question, some misfit adventures are always on their mind, and somehow they manage to get in trouble all the time.
However, the twins also have a good side. In this game, Zack and Cody are on a mission to help their mother kick-start her singing career. Your job is to help them stick posters all over the Tipton Hotel without being caught. There are four levels, each requiring you to hang 15 pictures. Are you up for the mission?
How to play the game
To help their mother, you have to run past picture frames guarded by fearsome enemies of the two. To move the twins from one side to the other of a specific floor, just use the Left and Right arrow keys. If you are near an elevator or stairs, you can use the Up and Down arrow keys to go up or down. The Up arrow key can also be used to hide behind curtains whenever you are near one.
However, be aware of Tipton's staff and Zack and Cody's enemies, including London and Maddie. They will be lurking side by side along Tipton's hallways. Luckily, you can hide between curtains and use elevators and stairs to avoid getting in trouble at Tipton. If you get caught, the twins will be sent to their room and have to try over again. Be careful.
As you hang pictures, try to collect bonus points to improve your overall score. One more thing that would ease your way through the game is elevators. Try to take advantage of using them for escape when you are cornered. Careful, drive the lifts up and down through Tipton's floors, but pay extra attention before stepping out at the destination floor! Sometimes, the people you are supposed to hide from might be right there at the elevator's door, waiting for you!
That would be all! Have fun!
If you enjoy playing Zack & Cody's Tipton Trouble, you might be excited to find out that there are 14 more Zack and Cody games you can try! The most popular is Pizza Party Pickup, and the most recently added is Smoothie Sailing