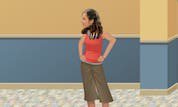 Play Now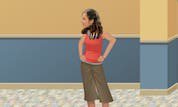 Unfortunately Wireless Quest is not available on your device. Please try one of the related games instead or visit our HTML5 category.
This Flash game is loaded using an emulator. If you notice any glitches(such as the game getting stuck or music/sound missing), click to play the original version with NuMuKi Browser for the best experience.
About Wireless Quest Game
Play the Hannah Montana Wireless Quest game and find Miley's lost diary! Sneaky Jackson hid Miley's diary somewhere in the school, but he left the clues for you to look for which will ultimately bring you to Miley's diary. Miley has only 30 minutes to find her diary before the class starts. Oliver and Lilly are helping Miley in her search.
How to play the game
To move around Miley, you need to use directional keys on your keyboard (arrows - up, down, left and right). Use space-bar to interact with objects, open door, etc. Use your MOUSE BUTTON 1 to click on the mobile phone segments.
Above the mobile phone screen, you can find a GPS/MAP of school to help you figure out where you are in the school at the moment. Messages button will allow you to read messages sent from Oliver and Lilly regarding the clues they've found. You can also answer or cancel the incoming call or dial a number from your dialer. You are also able to open the menu showing you the details about the game.
On your way around the school, while you search for clues, you'll find a shining star which will deliver more bonus points. Also, you will see a bright sand clock which will freeze the game time for 30 seconds.
Be sure to find all the clues and help Miley find her diary and all the secrets it holds before the bell sounds for the start of the class. Have fun!
If you enjoy playing Wireless Quest, you might be excited to find out that there are 21 more Hannah Montana games you can try! The most popular is Hannah Montana Dress Up, and the most recently added is Sound Board Mix-Up