Honey Tree CountDown
Tags:
honey pot
bees
| | |
| --- | --- |
| | Honey Tree CountDown: Click on the honey pot that matches the number of bees. |
| | |
| --- | --- |
| | Honey Tree CountDown: Click on the honey pot that matches the number of bees. |
Description of category Winnie the Pooh
Winnie the Pooh is arguably the most famous bear in the world. Winnie-the-Pooh book has been translated into thirty-four languages.The popularity of Winnie-the-Pooh and his friends gained a great deal in the 1960s. On June 16, 1961, Walt Disney purchased the film rights to the Pooh stories from Mrs. Daphne Milne. The first film, Winnie-the-Pooh and the Honey Tree, appeared in 1966 as a twenty-six minute short.Disney had replaced the character of Piglet with a gopher, which they thought had a more "folksy, all-American, grass-roots image," according to the film's director, Wolfgang Reitherman.More and more, Pooh and his friends are existing apart from the original books. Disney, as mentioned above, bought the non-book rights of the characters in 1961, and along with their film shorts, have recently produced "The New Adventures of Winnie the Pooh." This cartoon series had developed new characters, settings, and story lines apart from the original books. Another example of this is shown in Benjamin Hoff's books, The Tao of Pooh (1982) and The Te of Piglet (1992), when Hoff replaces Milne as the author/narrator and has discussions with these two characters.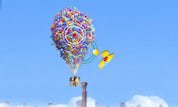 Up Sky Glider
Can you help Carl and Russel land the house safely? Click and hold mouse to blow balloon. Blow the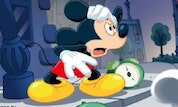 Alarm Clock Scramble
It`s 5 AM and Goofy is out delivering alarm clocks in a sleeping ToonTown and clocks are falling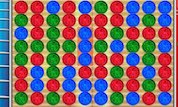 Invent-o-Rama
The Robinsons are having a Gizmotron making contest! To make a Gizmotron, you must clear the Gizmos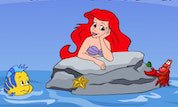 Ariel's Print and Play
Create your own images with Ariel, color them as you like and then print them !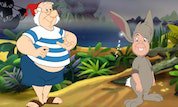 Peter Pan Neverland Treasure Hunt
PeterPan has hidden 208 piece of Hook`s treasure around Neverland. Who can collect the most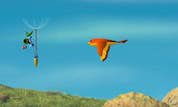 A Bug`s Life
You often dreamed that you can fly and you were sad because it was just an illusion. Stop being