Disney princesses have long been accepted as the most popular and adorable Disney characters. But have you ever asked yourself what can turn you from a little boy or girl, into a real princess or prince? Sofia the First was one of the Disney princesses that asked herself this question. She concluded that being a princess is not about wearing fancy dresses and shining tiaras. It is about being kind to both your friends and your enemies. And if you do have a modest, little dwelling – a castle for instance – then you may be probably considered a prince or a princess.
Thus, let us go through a list of one of the most memorable Disney Princess Dwellings. These are places that really stuck in your imagination for long. Places that can both inspire you and give you chills. Are you with us?
Rapunzel`s Tower
Do you now the proverb: `My house – my castle`? You surely do. Our home is a place of comfort, a place where we can relax and be ourselves. We can even walk without underwear when we are alone at home! But for Rapunzel, the girl with incredibly long, flawless blonde hair, her own house became a prison.
It happened years ago, when little Rapunzel was kidnapped from her parents in the Kingdom of Corona by Mother Gothel. Since then, Rapunzel is compelled to spend her days inside a tall, skinny-looking tower that was raised in the middle of a large rock pit. Moreover, Princess Rapunzel is not aloud to leave the castle. Mother Gothel, that cruel lady, always watches her, and says to Rapunzel that `Mother knows best` when she refuses to let Rapunzel to go outside.
It is indeed a lonely, lonely tower and the princess is left to watch the distant, floating lights of Corona from her tower`s windows all by herself. Well, not all by herself, since Rapunzel shares the tower with her chameleon friend – Pascal.
And you if you want to make your escape from Rapunzel`s tower along with Flynn Rider and Rapunzel, you can play Tangled Double Trouble
Also, if you ever get a chance to visit Rapunzel`s tower at Disneyland, you will find out what an incredible amount of books Rapunzel has!
Ariel`s Secret Grotto
If you think that princesses only live in beautiful castles, or are trapped in towers until someone saves them, don`t be fooled! Princesses` preferences are far beyond that! Ariel, the little mermaid for instance, love to spend her time deep underwater, inside her secret grotto. If you are faintly acquainted with Ariel`s story, and especially with her ardent passion for surface, then you may know that Ariel loves to collect human objects.
Each of them has a special meaning to her and that is why she conceals them deep into her grotto. Chests, candleholders, mirrors, jewelry, barrels – all these are treasure for the little mermaid.
Another reason why Ariel keeps concealing her little treasure, is because her father, the mighty King Triton, doesn`t agree with her passion. He considers humans dangerous and he tries to keep his daughter away from them. Nevertheless, in the very midst of Atlantica, Ariel`s secret grotto is waiting for you to explore it.
Sofia`s Castle
Imagine you living in a small village, in the very middle of a reach and beautiful kingdom. Picture the village inhabitants, all walking busily around you. They have their baskets filled with autumn fruits. The flavors of the fruits – mmm, the flavors – are just delicious! While walking on that busy street, in that busy village, you can faintly see the curves of a fine castle, gleaming in the distance. It is a castle that raises upon all the valley. It seems like its towers nearly reach the sky. But it is a castle that`s just too far away from you, so you can never get close enough to explore it.
That`s what little Sofia had been thinking, before she became a princess. She always wanted to get closer to that castle that stood in the middle of Enchancia. And when her mother Miranda marries King Roland the Second, Sofia gets a chance to explore the entire castle from a different perspective – from the perspective of a princess!
If you get to explore Sofia`s world, you can not miss her castle. It is place worth visiting. The games on our website dedicated to Sofia`s adventures give you the opportunity to explore her castle better. If you want to really dig deep into Sofia`s castle, play Keys to the Castle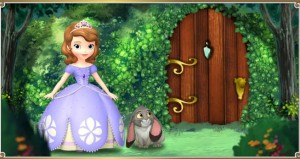 and help Sofia and her friend clover to retrieve the keys to the castle and also avoid Cedric, the sorcerer. The most memorable attraction of Sofia`s castle is her Enchanted Garden, where flowers can grow overnight! Plant and take care of the garden by playing Enchanted Garden
And if you want really want the multitude of rooms Sofia know owns, you can try playing House Decoration
Beast`s Castle
If you are looking for a spooky, dreadful place, then Beast`s castle is certainly the one you need. Located in the middle of a dark forest, Beast`s castle raises its sad towers into the depths of the night. You can scarcely see any light coming from its windows. This is because there is a beast that lurks inside the castle, and beasts usually hide from the sunlight. It is a place worth visiting though, since the West Wing of the castle tempts the travelers` eyes. If you consider to visit Beast`s castle despite the fact that it may be a spooky place at times , don`t be surprised to find out that Beast`s servants are turned into household objects. But you don`t mind shaking hands with a candleholder, do you?
On the other hand, after Princess Belle restores the love and laughter to the castle, the Beast`s dwelling transforms into a beautiful place. The lights came out and his servants are turned back into humans. The Beast himself transforms into a handsome prince – Prince Adam.