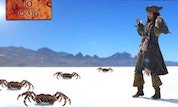 Play Now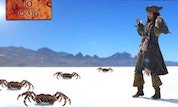 Unfortunately Whack-A-Crab is not available on your device. Please try one of the related games instead or visit our HTML5 category.
This Flash game is loaded using an emulator. If you notice any glitches(such as the game getting stuck or music/sound missing), click to play the original version with NuMuKi Browser for the best experience.
About Whack-A-Crab Game
Have you ever wondered which is Captain Sparrow's biggest fear? I will tell you: the crabs! He is merely terrified of them. Come and help him fly away from these terrible creatures only by using your mouse, in Whack-A-Crab game!
How to play the game
To start, hit the Enter button, and get ready for the first round. The game will begin immediately after so you must act fast! Aim for them only when they are moving because that is the only time when you can make them disappear. Nothing will happen if you try to get rid of them while they are inside their shell, so do not waste your time on those. Try instead to wait and catch them right in the moment they start moving.
Easy as pie until now. There is no big deal if two or three crabs get away, but pay attention carefully to the Pinch-O-Meter at the top of the screen. It will tell you how much more pinches can Jack endure. But I am warning you: nobody can stand those great pains, not even a brave pirate like Sparrow.
If you move your eyes just a little bit more to the left, you will see a small frame on which you can see the number of crabs you need to smash. I hope you like seafood because after each level, there will be more and more crabs to crush, but do not worry, the number will grow slowly throughout the game so you will get used to it.
When the smacking becomes too much for you and you lose the game, you can easily play again just by pressing the Play again image at the bottom of the screen.
If you enjoy playing Whack-A-Crab, you might be excited to find out that there are 7 more Pirates of the Caribbean games you can try! The most popular is Depths of the Dutchman, and the most recently added is Pirate's Conquest