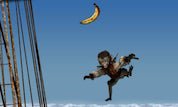 Play Now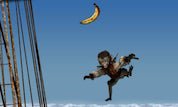 Unfortunately Jumping Jack is not available on your device. Please try one of the related games instead or visit our HTML5 category.
This Flash game is loaded using an emulator. If you notice any glitches(such as the game getting stuck or music/sound missing), click to play the original version with NuMuKi Browser for the best experience.
About Jumping Jack Game
Do you like pirates? And monkeys? Then I have the perfect game for you! Come and play Jumping Jack game, and help your favorite pirate monkey, Jack, to jump as high as possible to collect all the treasures he can!
How to play the Game
The instructions are quite simple, use the left and the right arrows to guide the landing of the monkey. Do not let Jack fall outside the hammock or you will lose the game, and most probably hurt a monkey. Take care not to press for too long the arrows and lose control and spare the monkey of a painful fall.
If you want to jump higher, you have to use the number 1, 2 and 3 keys from your keyboard. Once you press them, Jack will do the trick in the air and will start jumping higher and higher. Each one of the digit keys will make the monkey do a different stunt. The number 1 key will make him do a forward flip, the number 2 key, a backflip and the 3 key a bellyflop.
As you bounce, catch all the objects in the air to increase your score, even more, it does no matter if it is a bottle, a banana or a sword. Watch how the cute monkey flies so high into the sky, even space! Do as many tricks you can to make combos to give it a boost. If you forget to do your stunts, the monkey will lose altitude fast.
At the end of the game check your score and see your progress. This game will most probably keep you occupied for a long time because it is very entertaining and fun!
If you enjoy playing Jumping Jack, you might be excited to find out that there are 7 more Pirates of the Caribbean games you can try! The most popular is Depths of the Dutchman, and the most recently added is Pirate's Conquest