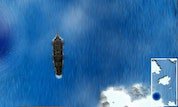 Play Now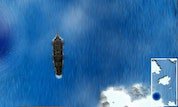 Unfortunately Treacherous Waters is not available on your device. Please try one of the related games instead or visit our HTML5 category.
This Flash game is loaded using an emulator. If you notice any glitches(such as the game getting stuck or music/sound missing), click to play the original version with NuMuKi Browser for the best experience.
About Treacherous Waters Game
Aye, Aye pirate! I am glad to see you again. A little bird told me that you are looking for some adventures. Then come right away and sail across the seven seas together with Captain Sparrow in the Treacherous Waters game!
The instructions are as simple as they can be. You only need to use the arrows to navigate around. No biggie. Before you start, you have to choose the level of difficulty. Whether you prefer to play easy or hard, you are free to pick whichever you want. Now, that you are ready, let us begin!
How to play the game
The aim is to pass seven red flags to the world's end. Too easy for you? Well, the good news is that it is not that of a piece of cake. You have to avoid icebergs and vortices extraordinarily fast! Take great care not to sink your ship. Too many obstacles not avoided and you will undoubtedly end up on the bottom of the sea. Not a pleasant fate for a pirate, merely think about the laughs that the other sailors will have at your expense. So do not end up like the Titanic and use your skills to finish.
Keep an eye out for the damage graph right there in the upper part of the screen. It tells you exactly how much more your ship can endure. To make it easier for you, you also have a little map in the bottom right corner. On it, you can see what kind of dangers you are approaching giving you the chance to avoid it quicker. Whenever you may want to take a break from the high pirate life, just press the P key on your keyboard to put your adventure on hold. Now raise your Jolly Roger and sail away!
If you enjoy playing Treacherous Waters, you might be excited to find out that there are 7 more Pirates of the Caribbean games you can try! The most popular is Depths of the Dutchman, and the most recently added is Pirate's Conquest