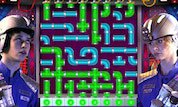 About Time Machine Rescue Game
Time Machine Rescue game is excellent for those who like a little adventure. Curtis has accidentally spawned himself in the future, more precisely in the year 2121. His two best friends, Phil and Keely, are trying to get him back. They are doing their best, but you`ll have to help them by being careful and by always being a step ahead of time!
To save Curtis, as said in the how to section, you have to connect each space of the date display panel with the power supplies at the bottom of the screen, and when all eight areas will be connected, the date will be set back correctly, and then Curtis will be saved. Attention! You will get 500 bonus points if you will manage to fill in the date starting from left to right. But be careful! You could run out of gas, so be sure to connect tubes with fuel bonuses. Also, at the end of each level, all the fuel left will be transformed into points.
You can use the mouse so the tubes can rotate and connect by clicking once on each blue tube. When there`s no time left, you`ll be warned by the alarm that goes on when you are running out of fuel. Under the panel, you have four options. You can mute the sound by clicking on mute, and if you have any questions you can get some help by clicking on the second button, you can pause the game or quit it.
You may also like these games